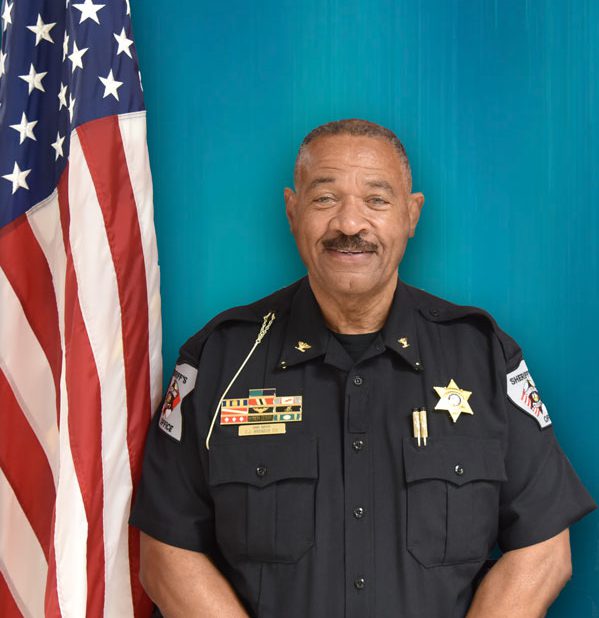 Casper "Jack" Jackson Broadus III was born in Hagerstown, Maryland and graduated from South Hagerstown High in 1968. He began his military career in 1969 when he enlisted in the United States Army. His first duty station was Fort Bragg, North Carolina. He is a decorated Combat Vietnam Veteran and held several positions during his tour of duty. As a dedicated service member he served as a Paratrooper, Drill Sergeant, Senior Drill Sergeant, Drill Sergeant Instructor, Noncommissioned Officer Academy Senior Instructor and a Helicopter Master Mechanic. During his military service he was recognized numerous times throughout his career. Some of his awards include 2 Distinguished Flying Cross with "V" Device, 8 Air Medals, The Bronze Star, Meritorious Service Medal, Master Aircraft Crewman Badge and Airborne Jump Wings. As First Sergeant or commonly referred to as "Top" Jack Broadus, neared retirement from the Army, he decided it was time to fulfill his childhood dream and become a sworn Deputy Sheriff. In 1988, he attended and completed his Basic Law Enforcement Training at Fayetteville Technical College.
In December 1989, the 21-year retired veteran started his career in law enforcement at the Cumberland County Sheriff's Office as a Special Deputy. He performed a variety of essential services for the citizens of Cumberland County and earned every rank from Patrol Deputy, Detective, Sergeant, Lieutenant and Captain. During his career with CCSO he served in various assignments, some of which include; Reserve Deputy, Honor Guard Member, Uniform Patrol, Community Police Unit, Field Training Officer, Criminal Investigator, Special Response Team Operator, Motors Unit, Narcotics Agent, Instructor, Rescue Diver and Overseeing the Patrol Division.
Chief Deputy Broadus is also a private pilot and has completed numerous site surveys for the Sheriff's Office. Some of his site surveys included aerial surveillance for the Special Response Team (SRT) and Narcotics Operations, gathering evidence for the Baby Michael Case, and mapping for the driver's training track.
Among his many honors and awards, he received his North Carolina General Instructors Certificate, Specialized Driver Instructor, North Carolina Basic Law Enforcement Certificate, North Carolina Intermediate Law Enforcement Certificate, North Carolina Advanced Law Enforcement Certificate, Master Diver Certificate and Police Mountain Bike Course. He also completed the Administrative Officers Management Program (AMOP) from North Carolina State University.
Chief Deputy Broadus retired from the Cumberland County Sheriff's Office in February 2006 as the Patrol Commander. Even after retiring, he stayed on as an auxiliary officer. In March 2006, he began employment with the Department of Army Civilian Police Fort Bragg. He was responsible for the protection and policing of DOD-affiliated personnel. Some of his duties included performing liaison work with foreign police agencies and investigating incidents involving personnel of the U.S. Armed Forces.
In 2007, Jack Broadus was hired with A Services, a security company that changed ownership to NC Special Police. Broadus still has a big impact and was instrumental in establishing NC Special Police. NC Special Police Officers patrol and enforce criminal laws on both private and public school property, county and state hospitals, shopping centers, apartment complexes, office buildings, golf courses, recreational lakes and train stations. He held the rank of Police Chief for 14 years.
In July 2021, he retired as the Watch Commander with the rank of Captain from the Department of Army Civilian Police Fort Bragg.
In August 2021, Sheriff Ennis Wright selected C. J. Broadus to serve as Chief Deputy. He proudly accepted his appointment and was sworn in by Judge Stephen C. Stokes on August 18, 2021. Chief Deputy C.J. Broadus III is currently serving his 33rd year as a law enforcement officer.
Admin. Assistant – Patricia Jenkins– (910) 677-5412